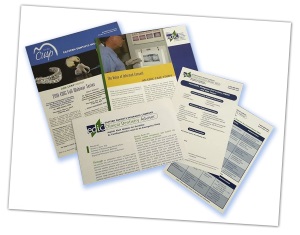 Prevent Dental Malpractice Insurance Claims Before They Happen
EDIC believes that risk management should be practiced every day in a dentist's practice to prevent medical malpractice insurance claims. In fact, since 1992, we know that good risk management practices help prevent medical malpractice lawsuits and claims.
Minimizing Dental Professional Liability through Risk Management Courses and Materials
While we cannot prevent every medical malpractice insurance claim, we are diligent in our efforts to minimize the number of professional liability claims. This is why we believe in risk management education and practices, not only for the newly graduated dentist, but also for the seasoned dentist.
By establishing good risk prevention habits and by attending our continuing education classes, dentists are informed about the newest trends in professional liability claims. We offer both online courses and in-person courses at convenient times and places within our coverage area. In our courses, dentists learn about the importance of good record keeping, how to dismiss a patient, and the proper dispensing of certain medications for dental surgery and for post-surgical complications.
As a value-added benefit for our EDIC insured's, we provide various risk management materials such as whitepapers, case studies, our bi-annual newsletter On the Cusp, as well as our EDIC Clinical e-Bulletin on emerging and cutting-edge risk management topics.
We encourage our dentist members to call our Risk Management team at any time if they have questions, a doubt, or a pending issue. Please feel free to call our toll-free number 1-800-898-3342 for immediate concerns. Or, email EDIC's VP of Claims and Risk Management, Barry Regan.