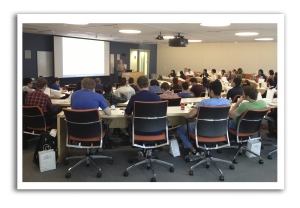 Learn From Real-Life Dental Malpractice Cases
Throughout the academic year, EDIC sponsors and hosts important Lunch N Learn events for dental students on real-life dental malpractice cases. EDIC's risk management team presents these case studies of several real dental malpractice cases to the audience. A discussion follows each case, providing the audience a chance to discuss the risk management issues involved in each dental liability case. Then, the audience acts as a jury, reaching a verdict on the dental liability insurance case, and awards a judgment, along with a monetary judgment. The audience is then given the real life verdicts and awards.
To take part in the EDIC Lunch N Learn program, contact EDIC's Risk Manager, Katie Panikian at 800-898-3342 x 229 or email Katie.