DDS Student, College of Dental Medicine Columbia University, Class of 2017
I was terrified of kids. Well, not of kids so much as treating kids. It was August of my junior year, just barely comfortable treating adults, but I was 3 hours from assisting the residents at Columbia's famed pediatric dental clinic. What if they cry? What if they don't open their mouths? What if they violently thrash about in the chair and I accidentally suction their uvula?!! I was irrationally fearful of every worst-case scenario my brain could possibly overthink of.
When I walked into the clinic, I noticed a definite common ground between pediatric dentists, pediatric patients, and wild animals: they are all adept at sensing fear! The first of the three was my savior: every single resident was very understanding of my apprehension and made sure I took the appropriate baby steps (pun intended) towards becoming comfortable treating children.
After a few days of healthy acclimation, I started asking the dentists what pushed them towards pediatric dentistry. Dr. Kim Leal, a second year resident, mentioned her experience with Kids International Dental Services, an organization responsible for various dental mission trips all over the world. She had the opportunity to serve on a Cambodia mission as a junior year student, where she not only discovered her passion for the specialty, but also gained confidence in pediatric anesthesia, behavioral management, and exodontia. With my newfound (albeit extremely minuscule) fearlessness in child patients, and a longstanding interest in Oral Surgery, I was tickled intrigued. However, it wasn't until my first few pediatric cases that I chose to apply. When I was finally selected, I knew that I was about to embark on the journey of a lifetime.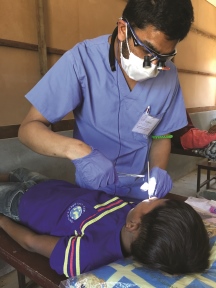 Rohan at the Cambodian Organization for Living and Training, an orphanage that is home to young adolescents who volunteered to serve as translators for Kids International Dental Services.
As any dental student will tell you, no matter how mentally prepared you are for any procedure, that first time doing it on a live patient always brings this unnerving sense of adrenaline. Because children add a complex behavioral component to any procedure, it often feels like you are learning to ride the proverbial bicycle all over again. We all have different ways of getting over these butterflies; for me, it's to jump right in. It was serendipitous that these missions force you to do just that! Under the guidance of several well-experienced dentists, you are thrown right into the belly of global healthcare. Those who have the confidence and ability to handle this pressure succeed, but it is even more important to understand your limits. This was the second most important lessen I learned: There aren't a million and a half requirements for faculty signatures and card swipes out there, and the sheer volume of those in need means someone may not always be watching your every finger twitch. I quickly discovered that it takes a great deal of humility to quickly identify when you need to pause and take a step back from your dentistry, to seek out a helping hand to resume your role as a student. The most important lesson? I simply have to go back to Cambodia.
Notably, we found that the children who were screened and educated in 2013 had significantly less dental decay and required significantly less dental extractions than children who did not participate in our educational intervention. Between baseline and the 10-month follow-up, the children's plaque index and self-reported toothbrushing behaviors improved significantly, suggesting our brief oral health intervention had caused a positive change in the children's long-term oral health.
In July 2015 we returned to the orphanage, where I led our incredible team of four supervising dentists (including both my parents and now my brother, a pediatric dentist), 17 dental students and eight portable dental units. Our trip was a remarkable success: in five days we provided over $130,000 in comprehensive dental services! In addition, we partnered with a local dental school in Lima who will visit the orphanage in between our annual visits to provide follow-up care.
Our organization is extremely grateful to our loyal local dentist sponsors and several corporate sponsors, including Eastern Dentists Insurance Company. EDIC has generously supported our dental mission for the past two years and we cannot thank EDIC enough! In addition, as our Peru Dental Mission is run entirely by dental students, we would not be where we are today without the unwavering support and commitment of my fellow classmates at Temple. We have students involved from every year of dental school, from freshman to seniors, who also dedicate endless hours to fundraising and planning for our trips.
Our goal is to recruit dental students who will become life members of our "Peru family" and who will return with us year after year. With next year being my fifth year in a row traveling to the orphanage, we have a responsibility to help maintain the oral health of the beautiful children at the orphanage.
In order to continue this oral health program and to create additional programs after I graduate from dental school, I recently established a dental non-profit organization, the Growing Smiles Foundation (www.growingsmilesfoundation.org). My ultimate goal is to create a replicable model so that dentists and dental students can provide both oral health education and clinical services for children in underserved areas, both locally and abroad.