DMD Student, Boston University Goldman School of Dental Medicine, Class of 2016
Spending four years in dental school can make you forget that the world is still evolving around you. That's why it was so important for me to travel to Nicaragua this past February to volunteer my time to the underserved.
I am fortunate to go to a dental school that emphasizes the importance of service learning. The opportunities provided to students in their 4th year are numerous, accommodating almost all those who want to go on a mission trip. A previous mission in Guatemala years back was one of the most rewarding experiences, and now knowing that I would be able to actually provide care was an added incentive for applying to this mission. I chose Nicaragua as my site because it focused more on restorative procedures as opposed to sites that offered primarily extractions. Little did I know the amount and severity of dental decay we would see.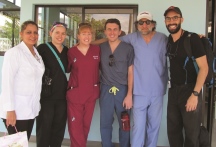 Outside the dental clinic in Esteli, Nicaragua February 2016
(L to R) Dr. Nidia, Janine Lipski, Kayla Cuddy, John Costello, Dr. Loren Wilson and Mike Mayr
Our mission took us to a clinic in Esteli, Nicaragua. The third largest city in the country might lead you believe that the city was fully developed. However, this small city located in the mountain region of Nicaragua was far from developed as compared to its bigger sibling cities. Still, the clinic we worked in had dental operatories with relatively new equipment that was recently donated. Over the next five days we proceeded to see over 60 patients and thankfully with the help of my fluency in Spanish, we were also able to educate patients on the importance of oral health.
My most memorable case was a 16 year-old boy and his sister, who traveled in from the outskirts of Esteli two days in a row to receive their treatment. When I asked the young man his chief concern, he smiled a pointed to the rampant decay on all of his front teeth, top and bottom. I knew that at this rate, the decay would soon result in unsalvageable teeth. Over the two day period I proceed to restore all eight incisors. Some might say it was a miracle that we were able to save these teeth, I say it was mega-miracle that a 4th year dental student was able to do it in less than two hours. This was one of many great successes we had on our mission trip, and even more of a testament to their importance. Mission trips provide a reminder of how fortunate we are in the US and the luxuries that we often take for granted. It is true that there is still great need in our own country for dental treatment, but I cannot imagine seeing the level of need that I have seen on my mission trips here in the US. Unfortunately many countries do not have the means to address these disparities, thus the importance of volunteering our time to this cause.
In addition to helping those in need, mission trips allow you to experience different countries and cultures. We were able to experience Nicaragua from its mountains to its beautiful volcanic beaches. The food was some of the best I have had in Central America and fruits, and vegetables were as fresh as you could get. The people were also friendly and helpful in our travels throughout the country lending to the laid back "Nica" lifestyle.
I admire practicing dentists who take time out of their work schedule to travel on mission trips. And although it might be difficult in my first years of practice, I hope to continue traveling on mission trips in the future.