DMD Student, The University at Buffalo School of Dental Medicine, Class of 2017
My desire for dentistry is driven by the field's capacity to infuse personal creativity with skills, which have the potential to lead to life altering changes for a patient. Community service has always been a big part of my life and dentistry has strengthened my drive to continue helping others. In undergrad, I volunteered at St. Peters Dental Clinic, which provides its services to underserved areas in the capital region. I participated in a dental missions trip during my senior year of college in Mexico. A team of dentist and students, including myself, provided dental care for a week in multiple cities in the rural mountains of Mexico. It was such an enriching experience to provide this care and it was humbling to see how much these people appreciated us being there and our ability to get them out of pain.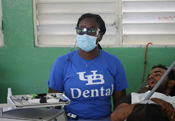 D3 Dental Student at The University at Buffalo School of Dental Medicine,
Emma Guzmán with patient.
While in dental school, I have continued my desire to help the community. I participate in outreach events on a monthly basis with organizations such as BOCA (Buffalo Outreach and Community Assistance) and HDA (Hispanic Dental Association). The populations that we provide care for is underserved and it's very important to see these people because they tend to have more medical issues than those who receive treatment regularly. This past July, I went to the Dominican Republic with my colleagues and dentist to provide dental care. We set up a dental clinic and provided multiple services such as hygiene, oral surgery, pediatric and restorative dentistry. I learned so much and was humbled by caring for these patients and nothing can compare to the feeling of getting someone out of pain or making them look better.
Providing treatment to the underserved is essential because there is a health care disparity for this population. Underserved communities are described as a region, which is usually urban, or rural that has some sort of deficit in health care resources. There is a lack of education, social inequality and limited resources in these areas and this is the reason why I want to serve this population. I grew up in the housing projects in Brooklyn, and my family continues to live there so I personally know what it is like to have limited access to resources. I truly want to give back to these communities because I am from this community.
My Guatemalan heritage, my ability to speak Spanish has enabled me to help the Hispanic community. I am able to provide dental education in Spanish and that is truly a benefit to those who do not understand English well. Being able to help so many people is a privilege and I am thankful everyday for the opportunities that have come upon me. My ambition and passion has lead me to continue volunteering even with a busy schedule because there is so much more to life than just school. My journey through dentistry has continued to enrich my life and I look forward to a lifetime in this career.