DDS Student, UNC Chapel Hill School of Dentistry, Class of 2018
I was born in the Philippines and my parents decided to begin a new life in America when I was one year old. Growing up as a first generation immigrant brought many challenges not only for me, but also for my parents. I watched them work hard and make tremendous sacrifices just to be able to provide my three siblings and me with access to the many opportunities America has to offer. Although they never asked for much, my parents always stressed the importance of hard work, a good education, and helping others—three things I continue to keep with me on my journey to becoming a dentist.
I believe that dentistry is more than just a profession. Dentistry is a gift. I worked hard to get accepted into dental school, but I know that I owe a lot of my accomplishments to certain talents, skill sets, and constant support from friends and family. I would not be able to get through dental school without the mental capacity or artistic ability to do so, and I most importantly would not be where I am today without the dedication of my parents. My passion for dentistry revolves around caring for others just as much as others have cared for me, and using my gifts to continue to give to everyone else.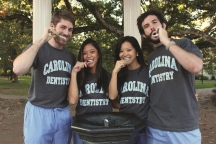 The 2016 UNC Philippines Project Team
(L to R) Noah Menaker, Dennilyn Morell, Wendy Song, Robert Long
While in dental school, it takes a conscious effort to maintain perspective amidst the never-ending stressors. At UNC, classes and clinics keep us busy, but we are also provided many opportunities to give back to our community—both locally and globally. As a member of the UNC Philippines Project, I will be traveling to the island of Bohol with three amazing dental school classmates and an attending dentist from North Carolina. We all share the common view that being a good dentist involves more than excellent hand skills and scientific knowledge, but a genuine compassion for helping others. Over the span of two weeks, we will travel throughout local schools in Jagna, Bohol to promote sustainable oral health education and to provide dental care to thousands of underprivileged school children and their teachers. All of our supplies and efforts will be made possible through donations and funds that we have raised.
We are extremely excited to be spending our summer together in the Philippines and to be fully immersed in a culture that allows us to see the beauty of diversity in dentistry and to build lasting relationships with the people we meet. We aim to use this opportunity to grow as future healthcare providers and to make a solid investment in improving global public health. Although we will only be in the Philippines for two weeks, we hope to leave with the knowledge that we have made a measurable impact in the lives of the local people, and with the tools to continue our work even after we return to Chapel Hill.