A dual DMD/MPH student at Kornberg School of Dentistry, Temple University, Class of 2016
As a senior dental student reflecting on my past three years of dental school, my free moments were often spent one of two ways: in my evening Masters in Public Health (MPH) classes or planning annual dental mission trips to an orphanage outside of Lima, Peru.
My journey started in June 2012. I had just completed the first year of my MPH at Temple University and was excited to start dental school in the fall. One of my MPH classmates was the supervising physician for Temple medical students traveling to an orphanage in Peru. One day after class, she asked me if I could help secure donations of toothbrushes and toothpaste for the 800 children at the orphanage. I said, "Sure! But can I come?"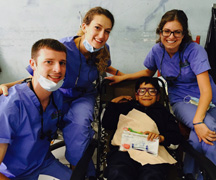 D4 Temple Dental Students in Peru 2015 with young patient.
(L to R) Zach Harrison, Bari Levine, Alesia Walsh. Photo courtesy of: Dr. Robert Levine.
A month later, I was teaching a group of 8-year-old girls at La Sagrada Familia orphanage how to brush their teeth with their new toothbrushes and toothpaste. Recognizing the dire need for oral health education and supplies at the orphanage, after I returned home, I immediately started fundraising and recruiting our first team. This team included my mother as our supervising pediatric dentist and three other dental students.
The following summer, we meticulously implemented an evidence-based, culturally sensitive, tailored oral health screening and education program to assess the oral health status of the children at the orphanage. I designed the program during many months of research in my dual DMD/MPH program with help of my amazing MPH mentor, Dr. Freda Patterson, and the incredible insight of Dean Amid Ismail at Temple Dental School. After the second trip, I knew we could do more. I recruited our second dental team: five supervising dentists (including my mother and now my father, a periodontist), seven dental students, a handful of high school students to provide the educational component, and two portable dental units. In five and a half days, we provided over $35,000 in free, comprehensive dental services, including digital x-rays, sealants, cleanings, scaling and root planing, fillings, extractions, and education. We were also able to re-screen and educate over half of the children we saw 10 months prior.
Notably, we found that the children who were screened and educated in 2013 had significantly less dental decay and required significantly less dental extractions than children who did not participate in our educational intervention. Between baseline and the 10-month follow-up, the children's plaque index and self-reported toothbrushing behaviors improved significantly, suggesting our brief oral health intervention had caused a positive change in the children's long-term oral health.
In July 2015 we returned to the orphanage, where I led our incredible team of four supervising dentists (including both my parents and now my brother, a pediatric dentist), 17 dental students and eight portable dental units. Our trip was a remarkable success: in five days we provided over $130,000 in comprehensive dental services! In addition, we partnered with a local dental school in Lima who will visit the orphanage in between our annual visits to provide follow-up care.
Our organization is extremely grateful to our loyal local dentist sponsors and several corporate sponsors, including Eastern Dentists Insurance Company. EDIC has generously supported our dental mission for the past two years and we cannot thank EDIC enough! In addition, as our Peru Dental Mission is run entirely by dental students, we would not be where we are today without the unwavering support and commitment of my fellow classmates at Temple. We have students involved from every year of dental school, from freshman to seniors, who also dedicate endless hours to fundraising and planning for our trips.
Our goal is to recruit dental students who will become life members of our "Peru family" and who will return with us year after year. With next year being my fifth year in a row traveling to the orphanage, we have a responsibility to help maintain the oral health of the beautiful children at the orphanage.
In order to continue this oral health program and to create additional programs after I graduate from dental school, I recently established a dental non-profit organization, the Growing Smiles Foundation (www.growingsmilesfoundation.org). My ultimate goal is to create a replicable model so that dentists and dental students can provide both oral health education and clinical services for children in underserved areas, both locally and abroad.