The EDIC Student Spotlight Program shines a light on current dental students and residents who go above and beyond just being "a dental student". Today, dental students are giving back to their local communities and also providing dental care abroad in countries with less than adequate dental care and dental education. At EDIC, our mission is to give back to the dental community and we felt the need to share some well-deserved "spotlight" to students and residents who in their spare time commit to others in need of dental care. These students share their stories and tell us why they work so passionately for their mission to make a difference in dentistry.
If you are a current dental student or resident and would like to be featured in our On the CUSP newsletter and on our website, submit your story, 500 words or less, to Melissa Surprenant, Director of Marketing at EDIC.
Spring 2016
Mike Mayr
DMD Student, Boston University Goldman School of Dental Medicine, Class of 2016
Spending four years in dental school can make you forget that the world is still evolving around you. That's why it was so important for me to travel to Nicaragua this past February to volunteer my time to the underserved.
I am fortunate to go to a dental school that emphasizes the importance of service learning. The opportunities provided to students in their 4th year are numerous, accommodating almost all those who want to go on a mission trip. A previous mission in Guatemala years back was one of the most rewarding experiences, and now knowing that I would be able to actually provide care was an added incentive for applying to this mission. I chose Nicaragua as my site because it focused more on restorative procedures as opposed to sites that offered primarily extractions. Little did I know the amount and severity of dental decay we would see.Read more…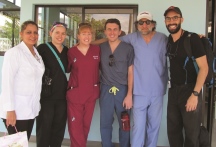 Outside the dental clinic in Esteli, Nicaragua February 2016
(L to R) Dr. Nidia, Janine Lipski, Kayla Cuddy, John Costello, Dr. Loren Wilson and Mike Mayr
Dennilyn (Dee Dee) Morell
DDS Student, UNC Chapel Hill School of Dentistry, Class of 2018
I was born in the Philippines and my parents decided to begin a new life in America when I was one year old. Growing up as a first generation immigrant brought many challenges not only for me, but also for my parents. I watched them work hard and make tremendous sacrifices just to be able to provide my three siblings and me with access to the many opportunities America has to offer. Although they never asked for much, my parents always stressed the importance of hard work, a good education, and helping others—three things I continue to keep with me on my journey to becoming a dentist.
I believe that dentistry is more than just a profession. Dentistry is a gift. I worked hard to get accepted into dental school, but I know that I owe a lot of my accomplishments to certain talents, skill sets, and constant support from friends and family. I would not be able to get through dental school without the mental capacity or artistic ability to do so, and I most importantly would not be where I am today without the dedication of my parents. My passion for dentistry revolves around caring for others just as much as others have cared for me, and using my gifts… Read more…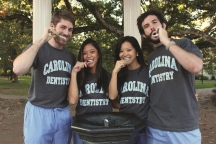 The 2016 UNC Philippines Project Team
(L to R) Noah Menaker, Dennilyn Morell, Wendy Song, Robert Long
Rohan Prabhu
DDS Student, College of Dental Medicine Columbia University, Class of 2017
I was terrified of kids. Well, not of kids so much as treating kids. It was August of my junior year, just barely comfortable treating adults, but I was 3 hours from assisting the residents at Columbia's famed pediatric dental clinic. What if they cry? What if they don't open their mouths? What if they violently thrash about in the chair and I accidentally suction their uvula?!! I was irrationally fearful of every worst-case scenario my brain could possibly overthink of.
When I walked into the clinic, I noticed a definite common ground between pediatric dentists, pediatric patients, and wild animals: they are all adept at sensing fear! The first of the three was my savior: every single resident was very understanding of my apprehension and made sure I took the appropriate baby steps (pun intended) towards becoming comfortable treating children. Read more…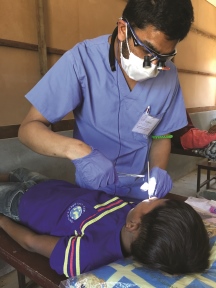 Rohan at the Cambodian Organization for Living and Training, an orphanage that is home to young adolescents who volunteered to serve as translators for Kids International Dental Services.
Fall 2015
Bari Levine
A dual DMD/MPH student at Kornberg School of Dentistry, Temple University, Class of 2016
My journey started in June 2012. I had just completed the first year of my MPH at Temple University and was excited to start dental school in the fall. One of my MPH classmates was the supervising physician for Temple medical students traveling to an orphanage in Peru Read more…
Jason Safer
DMD Student, Tufts University School of Dental Medicine, Class of 2016
Many Sharewood patients are unaware that they have dental problems, don't know the next step in seeking help, or never learned prevention strategies. Read more…
Emma J. Guzmán
DMD Student, The University at Buffalo School of Dental Medicine, Class of 2017
My desire for dentistry is driven by the field's capacity to infuse personal creativity with skills, which have the potential to lead to life altering changes for a patient. Community service has always been a big part of my life and Read more…