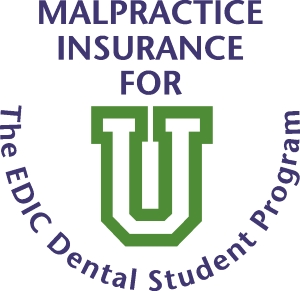 Malpractice Insurance For U
EDIC, the "By Dentists, For Dentists"® company is not only in the professional liability insurance, general insurance and financial business, we are also in the business of educating and assisting one of our more important constituencies, you the dental student.
We understand that dental students have many concerns. It is our goal to provide important educational opportunities, as well as insurance products to protect you and your most important assets as you enter and progress through your dental career. We call our program, Malpractice Insurance for U.
We offer many valuable services to dental students and the outstanding institutions they attend within New England and the Mid-Atlantic Region. These include:
New dentist discounts on our professional liability products (offered for the first four years of practice)
Additional insurance programs offered: Auto Insurance and Homeowner's/Renter's Insurance
Participation and sponsorship in ASDA and Clinic days, student-run outreach and mission programs, alumni and graduation events, as well as student seminars
Student resources for risk management and case study materials, moonlighting coverage, job resources, and graduating checklists to prepare to be a provider