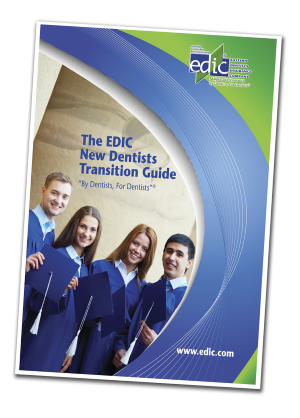 From Diploma to Practice
We understand the unique needs of dental students because we also attended and graduated from dental school. EDIC's Board of Directors is comprised of dentists and dental educators. Dentists are our first and only priority.
As you proceed through your final year in dental school there are many questions and concerns that you may have: examinations, licensures, dental association registration, writing your CV, preparing for interviews, finding a job, and at what time do you need to get malpractice insurance. Whether you are entering a residency, volunteering in an outreach program, going into the military, or starting a position in a dental practice, EDIC is here to support and guide you in making this transition as seamless as possible.
EDIC would like to provide you, our future colleague, a few resources to help you through your 4th year of dental school as you prepare to graduate.
Download and view these valuable resources:
EDIC's Clinical eBulletin
EDIC's Clinical eBulletin outlines emerging risk management topics, state board updates, CEU/webinar announcements for FREE CE credits, case studies and more.