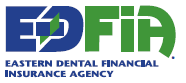 Eastern Dental Financial Insurance Agency (EDFIA)
Only available in Massachusetts
After EDIC's success with medical malpractice insurance and EDIA's success with personal insurance, we decided to further meet the needs of our dental colleagues by forming a second subsidiary, EDFIA, Eastern Dental Financial Insurance Agency. In 2005, we formed EDFIA to provide our insured dentists with the financial products and services to help them grow their assets and secure their financial futures.
EDFIA is composed of independent, objective financial advisors who are available to advise you, the dentist member, one-on-one about financial planning for your professional and personal life.
Financial Products and Services Offered to Dentist Members through EDFIA:
Financial Planning
Retirement/Estate Planning
529 Plans
IRAs
401(k)s, SEPs
Life Insurance (Variable, Term, Whole, Universal)
Annuities (Variable and Fixed)
Long-Term Care
Managed Accounts, Stocks, Bonds, Annuities
Practice Fringe Benefits
For more information on financial products and services offered to dentists in Massachusetts, contact your personal financial planner at EDFIA, Stephen Dellelo, at 800-898-3342 or by email.