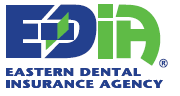 In addition to providing professional liability insurance, EDIC, through its affiliate, EDIA, offers dentists full coverage for their business and personal insurance needs.
EDIC offers the following commercial and personal insurance products to dentists in Massachusetts, Rhode Island, Vermont, New Hampshire, Maine, Connecticut, New York and Pennsylvania:
General liability coverage for slips and falls
Underwritten by the Hartford Insurance Company or Andover Insurance Company
Property protection covers your building and contents
Business income and extra expense protection
ERISA bonds to protect your pension assets and those of your employees
Specialized options covering legal expenses for disposal of medical waste and for court and review-board appearances
Discounts available for combined coverage's
Underwritten by The Hartford Insurance Company
Wage replacement and medical benefits to employees injured in the course of employment
Required by all states
Discounts available when combined with the office package above
Underwritten by the Hartford Insurance Company
Protects you and your dental practice against charges or suits on employment-related issues
Issues such as sexual discrimination, harassment, wrongful termination and employment discrimination can arise
EPLI coverage provides for both defense and indemnity payments
To review an important presentation about your Cyber Risk Responsibility in your Dental Practice by John G. Bagley, Esq. and Jeffrey K. O'Connor, Esq., two of the defense attorneys at Morrison Mahoney LLP.
Through The Hartford, a leading provider of specialty insurance with extensive experience providing coverage to dental and medical practices throughout the country
Be ready for potential breaches of your office information
Different coverage limits available
Free access to a 24/7 privacy breach hotline staffed by expert privacy breach lawyers in an event of a claim
Underwritten by Plymouth Rock
6% discount available for members of the Massachusetts Dental Society
24 hour claims reporting
Free pick up and drop off of rental cars
Underwritten by either The Andover Company or Chubb Insurance Company
24 hour claims reporting
Underwritten by either The Andover Company or Chubb Insurance Company
Up to $3 million in excess liability coverage
Underwritten by either The Andover Company or Chubb Insurance Company
If you are renting a property or apartment, protect your contents and personal liability
Content limits range from $15,000 to $500,000
Additional Insurance Products for Massachusetts Dentists
Only available through Spring Insurance Group
Spring Insurance Group operates as a trusted, full service, value-added insurance agency dedicated to servicing the diverse employee benefit insurance needs of the MDS dentists, families and staff. Products and Services offered by Spring Insurance Group include:
Health and Dental Insurance
Short- and Long-Term Disability Insurance
Life Insurance
Identity Theft – Financial Protection Plus
Pet Insurance
Travel Insurance
Voluntary Individual Insurance Benefit Program
Spring Insurance Group works closely with our strategic partner EDIC/EDIA to provide a full-service insurance buying and servicing experience under one roof. By obtaining insurance through Spring Insurance Group, you not only gain an advocate in the ever-changing insurance marketplace, but you are also supporting organized dentistry and the dental industry in Massachusetts and nationally.
For more information on these products above, please contact Spring Insurance Group directly at 617-589-0930 or visit their website at http://www.springgroup.com/