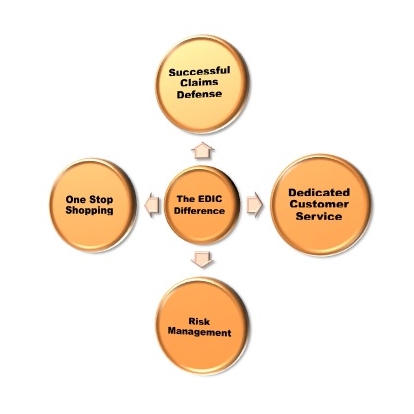 "By Dentists For Dentists"®
We are the only company in the United States owned and governed by dentists that specializes in malpractice insurance for dentists. This niche-focus enables us to provide the products and coverage that matter most to you.
Successful Claims Defense
EDIC is committed to an aggressive claims management policy to serve the professional and economic interests of its policyholder dentists. Our claim philosophy is based on prompt response to all issues and concerns, and proactive investigation, evaluation, and disposition of all claims. At anytime, should you need advice or support you are encouraged to call our 24/7 claims hotline at 800-898-3342.
One-Stop Shopping
EDIC also offers office packages, workers' compensation and employment practices liability. We partner with highly-rated insurance carriers to offer these products to you.
Dedicated Customer Service
EDIC prides itself on providing outstanding customer service. You are assigned a dedicated customer service representative, and during normal business hours you will always reach a person to assist and direct you to the appropriate area.
Risk Management
Our focus on the dental field allows us to provide timely risk management information. Webinars and educational seminars provide our policyholders the opportunity to stay current on today's key topics while earning free continuing education credits. EDIC is also an ADA-CERP recognized provider. Furthermore, white papers, clinical advisories, and monthly clinical e-bulletins are sent throughout the year to keep you updated on emerging issues.